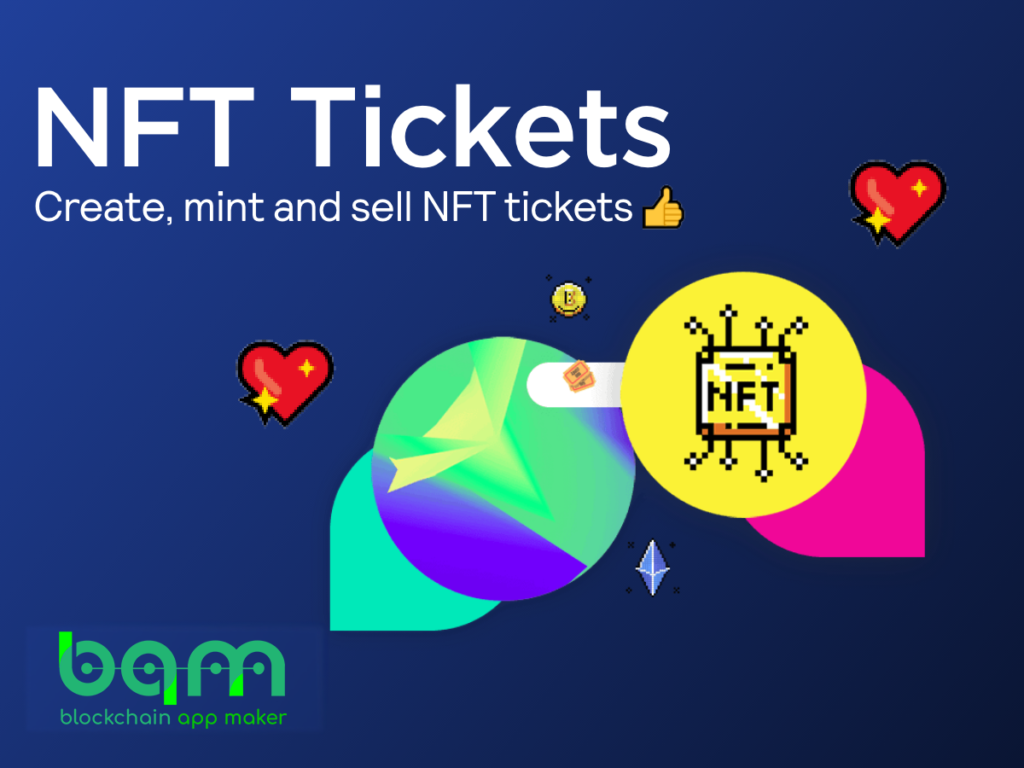 Platform for NFT Ticketing
Isn't it True that NFTs' Vision isn't Supposed to be Limited to the Trading Circle?
From being a symbol of an expensive rarity to one of the most significant dominating technologies, NFTs are growing into a monster future. Because its applications are regularly utilized by celebrities and athletes, NFT became known as a brand. As we can see from the examples above, NFT has the potential to provide a significant breakthrough at a much faster rate. For Fintech and financial norms, blockchains are the way of the future. The predictions for NFTs are growing, and they will soon be in a position of unmistakable dominance and reliance on them across all platforms like NFT Ticketing.
The best NFTs of all time are the brainchild of the crypto era. Despite the fact that the notion of crypto-based currencies or digital currencies dates back to 1995, the arrival of Crypto has already changed the fundamental design of the crypto space. In the financial sector, they have far too much influence. The crypto world began to heat up with the advent of bitcoin. The crypto field saw tremendous growth with the debut of Bitcoin, unlike any other industry on the planet. Bitcoin and cryptocurrency are commonly considered to be among the most advanced technologies for achieving such rapid ecosystem expansion. NFT, on the other hand, surpassed all of these legacies and legendary achievements in less than a year. Only NFT has been able to successfully capture the market, transacting billions of dollars in a short period of time.
NFT is in Charge of Ticketing
NFTs are not merely tokens that may be coupled with assets to execute a trade with perfect ownership authenticity, as previously stated. NFTs have the ability to address a wide range of present demands and faults in the real world. NFT Ticketing is an example of a domain where the NFT can be used to promote and process numerous platforms in a range of ecosystems.
How Can NFTs Be Used?
Ticketing for movies
Even after a ticket is acquired, there is still a possibility of authenticity failure, and people are inconvenienced while checking the ticket ratio. NFT has the potential to have a substantial impact on movie ticketing functionality. Purchasing cinema tickets with NFT will undoubtedly put an end to the controversy. Because the legitimacy of the NFT-based ticket cannot be tampered with, it can be considered proof of authenticity on its own. This would expedite the process and pave the path for new movie ticket standards, such as allowing customers to transfer or sell their tickets prior to validation. The process of creating tokens based on certain token standards in order to keep the target as NFTs, which can be used for a variety of reasons depending on the developer's choices, is known as NFT Ticketing. NFT's easy integration has the potential to make a huge difference in the industry.
Ticketing for NFT Events is Now Available
NFT will greatly simplify the process of identifying and authenticating Exclusive individuals for highly exclusive access. From VIP events to restricted entry zones, this can be used in a variety of contexts. The NFT event tickets will greatly simplify security system maintenance. Existing validation technologies, such as RF, bio-metrics, and others, are today confronted with a slew of issues. Because NFTs are one-of-a-kind, they cannot be altered, ensuring a flawless fit.
An Increase in the Trading Market's Volume
NFT will be a successful present because of its indivisible nature and excellent smart contracts, allowing for the utilization of surge and demand sales. Making high-demand rooms or movies into NFTs will open up new opportunities for fortunes with the NFTs on board.
Certifications
Self-learning and remote-based learning are becoming more popular in the crypto era to support and reinforce the legitimacy of credentials. The NFTs are appropriate for use. Including this use case as a significant feature will significantly improve Certification validity and confidence. NFT Ticketing will be the future of technical development.
Why is NFT Ticketing the Most Significant And Important?
Authenticity and Ownership
You don't have to worry about asset ownership when you use NFT. The NFT created in our platform will maintain your identity no matter where you are or how long the asset is used. The most intriguing aspect of NFT minting is its uniqueness.
Liquidity
We provide quick cash whenever you purchase an asset on the platform. This allows you to sell your item immediately after purchasing it on the market. Your NFT trade does not have any cooling intervals or restrictions. It was created to give users complete control and an unrestricted platform to conduct business on.
Immutability
The asset will be transferred to your wallet when you mint or buy an asset on the site. The asset's security is determined by its category. Simultaneously, because servers are open to the public, the asset defined in the NFT platforms when utilized for storage would pose a security risk. To create assets, systems employ a decentralized distributed storage architecture. As a result, there is no risk of data loss on the platform.
In the Future of NFT, Ignite the Future of NFT Ticketing With A Blockchain App Maker
In order to obtain a favorable result in the Crypto sphere, our activities have always taken into account market evaluations and suggestions. Because we've been in the business since before they were formed, we know how to manage NFTs, and our experts can blend in to produce a highly secure NFT in the crypto era. We're aiming to make the best use cases a reality, from printed typefaces to processing capabilities, because we know that NFT ticketing is the way of the future, not just in the crypto realm, but also in real-world use cases.