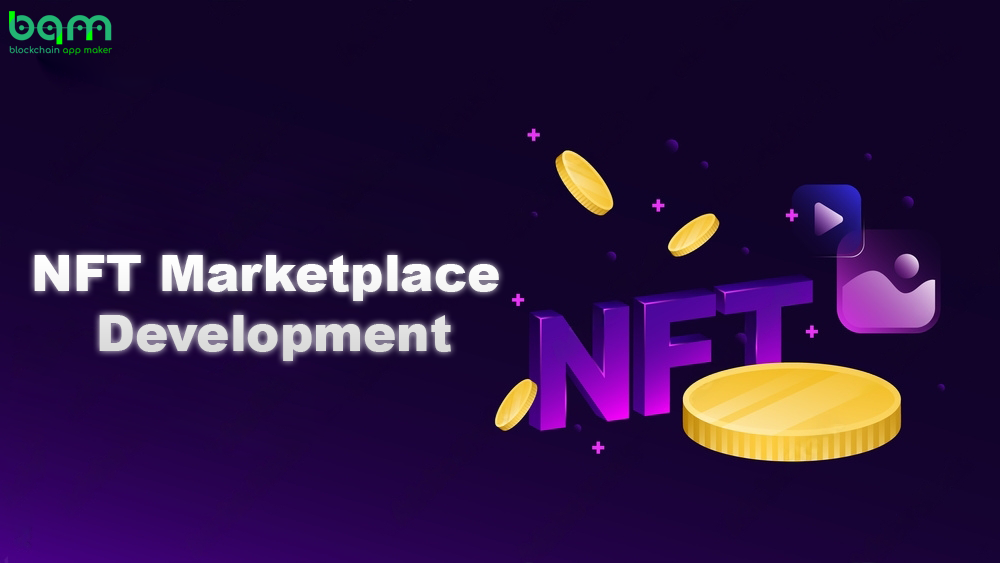 When developing an NFT Marketplace, it is vital to enlist the services of a reputable NFT marketplace development company to create a top-notch software product and meet specific business goals. An experienced NFT Marketplace development company can start your project from the ground up and offer suggestions if necessary. Furthermore, they can help you select a technology stack and architecture style to guarantee scalability, performance, and robustness. By engaging the services of proficient NFT marketplace developers, you can enhance the quality of your final product. With so many companies offering the service of transforming digital art into NFTs and developing an NFT marketplace, you may be unsure of which company to select. In this article, we have listed the top 7 NFT Marketplace Development Companies offering the best services to their clientele.
Blockchain App Maker: Blockchain App Maker is renowned for its dependable NFT Marketplace Development services. Through a highly customizable approach to NFT development, the company assists its clients in becoming leading players in the NFT market. Their comprehensive range of services includes the development of Fractionalized NFTs, art-based NFTs, game-based NFTs, collectable-based NFTs, and many more. Additionally, they are known for their innovative technological development solutions and ability to provide services on a global level that will shape the future. They have successfully paved the way for seamless by being both utility-driven and result-driven.
Boosty Labs: Boosty Labs is an NFT development firm that offers a comprehensive selection of NFT development services to many industries, including healthcare, digital art, fintech, education, and real estate. With expertise in building solutions and products using immersive technologies such as AI, AR, and VR software, they provide businesses with the necessary tools to reach their goals. In addition to their NFT development services, they function as startup and enterprise consultants, offering guidance and assistance in utilizing the most recent technologies.
Interexy: This innovative web and apps development company burst onto the scene a few years ago and had a revolutionary impact on the market. With their custom software development and IT consulting services based on blockchain technologies, they are proud to provide cutting-edge solutions to industry giants. Their team of highly-skilled NFT developers specializes in next-generation technologies, providing their clients with a competitive advantage in the current challenging market.
Infograins Software Solutions: For many years, Infograins Software Solutions has provided a comprehensive range of NFT Marketplace development services to customers worldwide from many industries. The highly experienced NFT Marketplace development company has successfully created secure, efficient, and profitable Blockchain solutions. Their expert NFT developers can construct fully tailored NFT marketplaces for any given niche.
Chaincella: Chaincella is a pioneering NFT development company that harnesses blockchain technology. Their end-to-end development service is highly efficient and yields successful outcomes in various areas such as music, real estate, sports, gaming, memes, and arts. Furthermore, the company provides outstanding services in creating NFT marketplaces, NFT Token Development, NFT games, and other platforms, alongside marketing services such as social media marketing, community management, reputation management, NFT listing, telegram marketing, growth hacking, and much more.
Alwin Technologies: Alwin Technologies is a highly esteemed blockchain solution and user-oriented NFT development agency, offering services to businesses of all magnitudes, ranging from small to large enterprises. The company's expert developers are committed to surpassing expectations and achieving success. Popular services provided by Alwin Technologies include Crypto exchange, Decentralized Finance, and Software development.
Bitdeal: Bitdeal is the leading NFT Marketplace Development Company. With their comprehensive NFT Marketplace Development Solutions and key features, they ensure a secure and dependable NFT Marketplace tailored to the Client's specifications. Furthermore, they are equipped to assist you in launching NFT Marketplace Clones such as Opensea, Rarible, Superrare, and more.
Summing Up
When selecting an NFT marketplace development company, it is essential to evaluate the team's proficiency in the domain, technology, and operating systems. Additionally, you should take into account your budget and expected deadlines. Moreover, it is crucial to establish the project's requirements and determine the most suitable collaboration model. For example, if you lack a technical background, the optimal solution is to recruit a full-service software engineering firm that will not only develop an NFT marketplace but also guarantee post-release support and maintenance. It is noteworthy that several IT partners offer marketing services, helping brands and organizations to analyze competitors, study their target audience, and advertise software products.