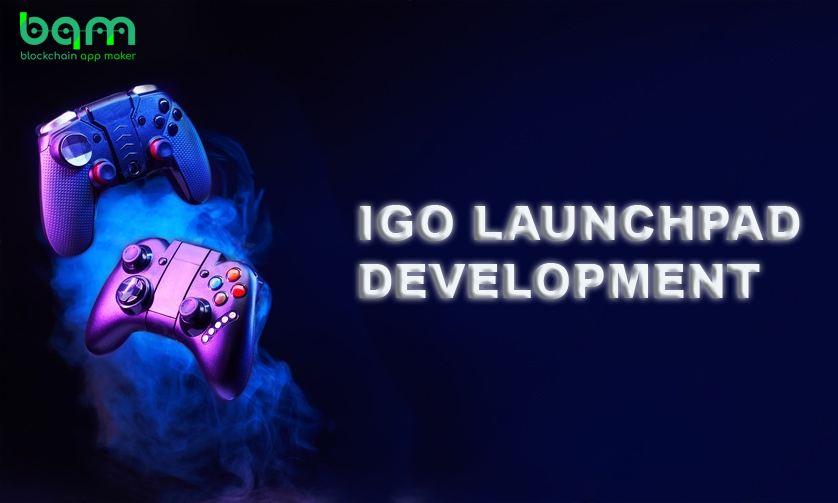 Due to the low barrier to entry and the financial rewards associated with them, crypto gaming projects have seen a significant increase in revenue, with some established blockchain games even receiving multimillion-dollar valuations. Developers are improving the quality of their blockchain gaming projects, allowing more people to benefit. Have you heard of IGO Launchpad development? It's a way for developers to raise funds to develop a blockchain game further once it has been released. These take place on dedicated platforms and allow users to 'invest' in the title and receive a stake in return. This process benefits the game developers and provides an investment opportunity – making IGO Launchpad development a great option for those looking to make a return.
Overview of IGO Launchpad
An Initial Game Offering (IGO) is a crowdfunding approach employed by blockchain game teams in the early stages of development. Retail investors can receive discounted in-game tokens and assets for their contribution. This approach reduces the entry barrier and allows participants to secure these assets before making them available to the public. Typically, IGO launchpads tailor early-stage blockchain gaming projects. Some exclusively dedicate themselves to gaming, while others may include different projects.
Investors can either stake the tokens or lock them in a pool, depending on the launchpad platform. Before the public auction, investors can get in-game assets at lower prices. Through this technique, the gaming startup can raise money, and investors stand to gain significantly if the game develops after it is released. Before potential investors may participate in crowdfunding, a project must meet several criteria outlined by the IGO Launchpad platform.
IGO Launchpad Development Process
Conceptualization: The initial steps in creating an IGO launchpad are conducting market research and conceptualizing the platform. You must identify your target market, understand their requirements and preferences, and assess competition in the IGO launchpad market.
Technical Specifications: The next step is to design the technical architecture of the IGO launchpad. This step includes selecting the blockchain platform to use, defining tokenomics, and developing the smart contract to govern the sale and distribution of the game tokens.
Development: The IGO launchpad can be developed once the technical framework is in place. The development process entails developing code for the smart contract, designing the user interface, integrating blockchain technology, and building the frontend and backend.
Features of IGO Launchpad Development
Digital Wallet Integration: Recipients should be able to select the payment option of their choice and make payments to individuals or organizations in any currency from any part of the world.
Flow Investing: Eliminating the cooling period means users can perform immediate transactions through the IGO Launchpad Development platform. Thus, this type of trading has enabled users to complete any desired transactions.
Liquidity: The company strives to ensure the trust of its users by making all processes transparent and transactions seamless. The source code is made available for public scrutiny and verification.
Scam Prevention: By implementing anti-scam strategies, such as tracking proxy habits and other factors that influence them, any IGO development company can gain the trust of its customers. Such measures are effective scam-prevention tools.
Staking Modules: Stacking modules allow users to become involved in the IGO ecosystem through the facilitation of companies providing funds in exchange for returns.
Cross-Chain Compatibility: This feature provides increased interoperability, enabling users to carry out inter-chain transfers with ease. This allows users to trade tokens across multiple blockchains, thus providing a greater degree of flexibility in their operations.
KYC: The KYC prevents fraud and ensures the users' privacy for IGO Launchpad.
The Road Ahead
Despite the risks associated with investing in an IGO, the space continues to grow. More and more quality projects are launching through IGOs, and they are quickly becoming an integral part of blockchain gaming. By utilizing IGOs, crypto gaming projects can effectively raise funds and generate buzz before the release of their game. However, there have been cases of developers not meeting their obligations, leaving investors with losses. Therefore, extensive due diligence and research are necessary to identify and avoid potential pitfalls and scams.
Why Blockchain App Maker?
The establishment of IGO Launchpad development provides a platform for gamers to acquire gaming assets. Game Launchpads encourage entrepreneurship. Attracting players who conceive novel ideas and investors looking to invest in the IGO launchpads may result in lucrative investment opportunities. At Blockchain App Maker, we assist with the development of successful IGO launchpads. As a well-known blockchain development firm, we have clients from around the globe. If you are interested in creating an IGO launchpad, our team is available to discuss your requirements.