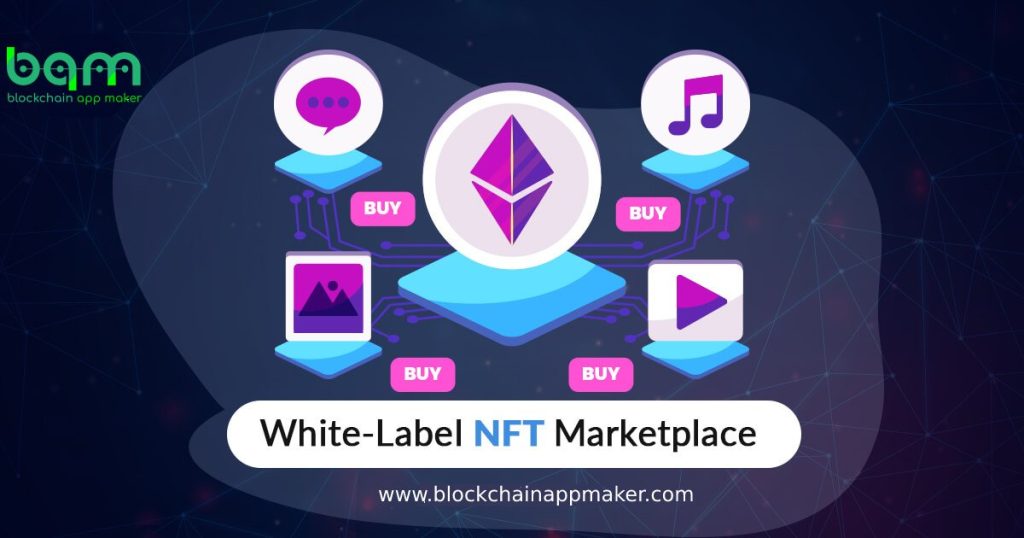 NFTs have been around for at least five years (That is, since 2014). These non-fungible tokens, on the other hand, have recently skyrocketed in popularity (during the latter half of 2021). NFTs were rapidly trending on social media as famous celebrities enthusiastically endorsed the new technology. NFT marketplace platforms also deserve credit for generating significant money from the selling of NFT assets. Some of these sites have made millions of dollars through various trades. NFTs, which can range from art to tangible assets, will be around for a long time, as will the NFT marketplace platforms. We'll learn more about constructing a multi-chain NFT marketplace in this blog, which might be a game-changer.
What is an NFT Marketplace with Multiple Chains?
A multi-chain NFT marketplace is a platform that allows NFTs to be exchanged across various blockchains via a single interface. This can make things easier for users because the interface and handling stay the same regardless of the network. Although no NFT marketplace fully functions on multiple chains, OpenSea and Rarible are two prominent markets that operate on two blockchains. Although a few aggregators appear to solve the problem, the notion of a multi-chain NFT marketplace is rather different.
Features of a Multi-chain NFT Platform
Shopfront – Any multi-chain NFT marketplace's shopfront appears like any other online trade website, with products organised by category. The functionality allows you to quickly obtain descriptions for particular NFT goods. Information about the item's blockchain protocols is occasionally provided so that a user may check the NFT's authenticity.
Filter and Search – A search option should be included on a multi-chain NFT marketplace site so that consumers can quickly discover the goods they wish to buy. To make navigation across the portal easier for the user, the search tool must also contain filtering options.
Digital wallet – It is required for transactions between buyers and sellers on a marketplace selling NFTs on various chains. For a better client experience, several services enable the integration of existing external crypto wallets like Metamask or Coinbase. Others have crypto wallets embedded into their portals where customers may deposit bitcoin to make transactions.
Notifications — In order for a multi-chain NFT marketplace portal to thrive, customers must be informed of new developments via emails and push notifications.
Customer Support – One of the essential aspects of a multi-chain NFT marketplace should be a dedicated customer service that operates around the clock. This is because it would be the first place users would go if they had a problem with the portal. As a result, having individuals that understand NFTs is critical, as customer service is your company's face.
Truly Multi-chain — This attribute determines if a marketplace is similar to others in the field or stands apart. Multi-chain functionality necessitates the presence of two, preferably more, chains on which the gateway may operate fluidly.
The Advantages of a Multi-Channel NFT Marketplace Portal
Continuous Connectivity – A multi-chain NFT marketplace allows seamless communication across blockchain networks, resulting in increased efficiency for both buyers and sellers.

Simply Move Between Networks

— An NFT marketplace that runs on many blockchains allows users to easily switch between networks and trade appropriately.

Capture Uniqueness

– A business platform like this can encompass all of the unique elements of the blockchains on which it may operate. In terms of absorbing capabilities, this gives it a significant advantage over other NFT marketplaces.

Cheap Gas Fees

— Because transactions may be altered dynamically, working as an NFT marketplace with multi-chain capabilities ensures low gas fees on blockchains.
Trading on Various Networks — Sellers may make trades on multiple blockchains on a multi-chain NFT marketplace, making the process easier.
It is critical to plan everything before launching your new multi-chain NFT marketplace. The first round of planning include deciding on a path for your new firm and creating a roadmap. The blueprint is then turned into a whitepaper for the NFT marketplace initiative.
After that, you may utilize the current software to personalize the marketplace platform's user interface and experience. In-house developers or a development firm with suitable competence can do this. Your NFT marketplace platform would benefit from a visually appealing design and an engaging user experience.
The following step is back-end development, which is crucial since it assures the portal's security and stability. Because recruiting blockchain engineers is challenging, it might be possible to collaborate with a development business with the appropriate competence. Back-end development would be required for a Whitelabel multi-chain marketplace software to offer increased security and robustness features.
Software failures can disrupt the smooth operation of a multi-chain NFT marketplace platform. Before beginning company activities, the site should be thoroughly examined and any errors corrected. If new flaws are discovered in the first issued version, additional assistance may be required.
A Final Thought
The job of creating a multi-chain NFT marketplace might seem intimidating. However, using a Whitelabel solution for your NFT marketplace endeavor might make this easier. You may get such a solution if you employ a company that specialises in designing blockchain-based apps. While simple to set up and implement, the Whitelabel multi-chain NFT marketplace solution is reasonably priced. So, as the adage goes, "Make hay while the sun shines," take advantage of the golden moment of NFT goods.