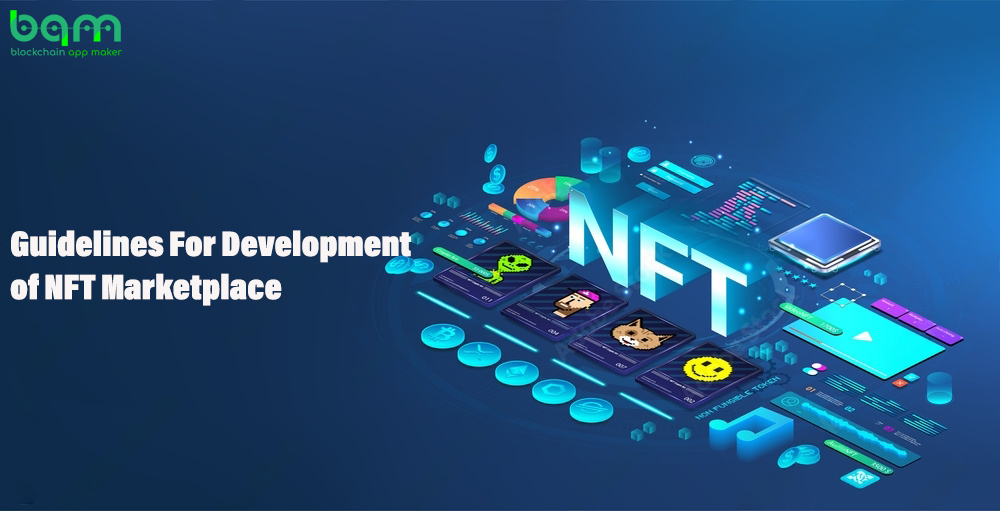 In recent years, NFT Marketplace development has been gaining momentum due to the increasing popularity of the concept and technology behind it. The NFT cap is proof of the growth of the industry. In 2022, it reached the amount of $828 million. Although creating an NFT Marketplace can be both a strenuous and rewarding experience, the potential rewards are considerable. Before opting for revenue-generating NFT Marketplace development solutions, it is essential to know some crucial steps.
Steps To Consider For NFT Marketplace Development
Choose Your Niche: You need to choose your area of specialization before developing your NFT Marketplace. You may opt for one of the current niches or create a new and distinct NFT Marketplace. Art, entertainment, sports, mass media, learning, e-learning, finance, security, and other authentic NFT Marketplaces are all viable options. Upon deciding, ensure that the NFT you have selected is white-listed and under the standards. Furthermore, determine what payment gateway you would incorporate and whether to enable minting. You can create a unique USP and an engaging NFT Marketplace through these considerations,
Conduct Thorough Market Research: You should conduct thorough research for NFT Marketplace Development. This research should include understanding your target audience, primary competitors, and the latest trends in the crypto industry. It is necessary to answer the following questions to grasp the current market situation, Who are your target customers? What is the niche of your NFT Marketplace? What features should be in your NFT Marketplace to provide your users with the best experience? Which Blockchain platform is most suitable for asset tokenization? Who are your competitors, and what are the types of Marketplace services they are offering to their audience? What are the popular trends in the crypto industry?
Research Existing Marketplaces: Before conceiving an NFT Marketplace, it is imperative to conduct research and analysis of existing NFT Marketplaces to gain insight into the industry and recognize potential adversaries. This research will aid you in identifying prospects and likely problems, assuring that your NFT Marketplace can differentiate itself from the competition.
When researching existing NFT Marketplaces, consider the following factors: Popularity and user base, types of NFTs supported, user experience and interface, fees, and commissions.
Selecting a Blockchain Platform: When deciding upon a blockchain platform to support the storage, trading, and management of NFTs in the development of an NFT Marketplace, consider your specific needs and requirements. It includes the type of NFTs you wish to support, the desired level of security and decentralization, and the scalability. Popular blockchain platforms for NFT Marketplaces include Ethereum and Binance; thus, thorough research of your specific needs is crucial before selecting a blockchain platform for your NFT Marketplace.
UI Development: Designing an attractive user interface can be the best way to keep your users on your NFT Marketplace. There are several stages in the design process of your Marketplace: forming a Wireframe, choosing Style Guides, creating Mock-ups, and producing a Prototype. A Wireframe is a conceptual layout that defines the visual structure of a website or app. Style Guides will provide insight into presenting the UI elements of the NFT Marketplace. Mock-ups include visual and structural elements designed by implementing Style Guides onto the Wireframe and giving a high-fidelity design of the Marketplace. Finally, Prototypes simulate how the NFT Marketplace will operate, acting as demo versions of the Marketplace.
Security Measures: When selecting an NFT Marketplace Development company, it is crucial to consider the security measures and compliance guarantees they provide. Ensure that protective measures are in place to protect against hacking, data theft, and malicious attacks. Confirm that the platform meets all legal requirements for digital asset transactions in the jurisdictions served. Consider the various government regulations related to KYC/AML policies and financial compliance rules such as GDPR and PCI-DSS. Be sure that the development team is well-informed about them. Furthermore, implement communication and data encryption measures to protect user privacy.
Testing and Debugging: After completing the development and design of the Marketplace, conduct tests to detect any issues or functional defects. The Marketplace will get subjected to a series of testing rounds to address any possible problems to guarantee the proper functioning of the platform. This process should include functionality testing, performance testing, security testing, usability testing, and compatibility testing. Upon the completion of all testing, the Marketplace will be ready to be released to the public.
Promote Your NFT Marketplace: A marketing strategy will help in gaining loyal customers. The loyal users will not only make purchases but will also promote the platform. You can use Social media sites like Facebook, Twitter, LinkedIn, and Instagram to advertise the Marketplace. Other than these social media websites, Discord is also a popular platform for NFT lovers. You can promote your NFT Marketplace on Discord. You can post SEO-compliant material using blogs to enhance the website's ranking on search engines. Other social media marketing and advertising tools include paid campaigns, like PPC, ads, subscriptions, and more.