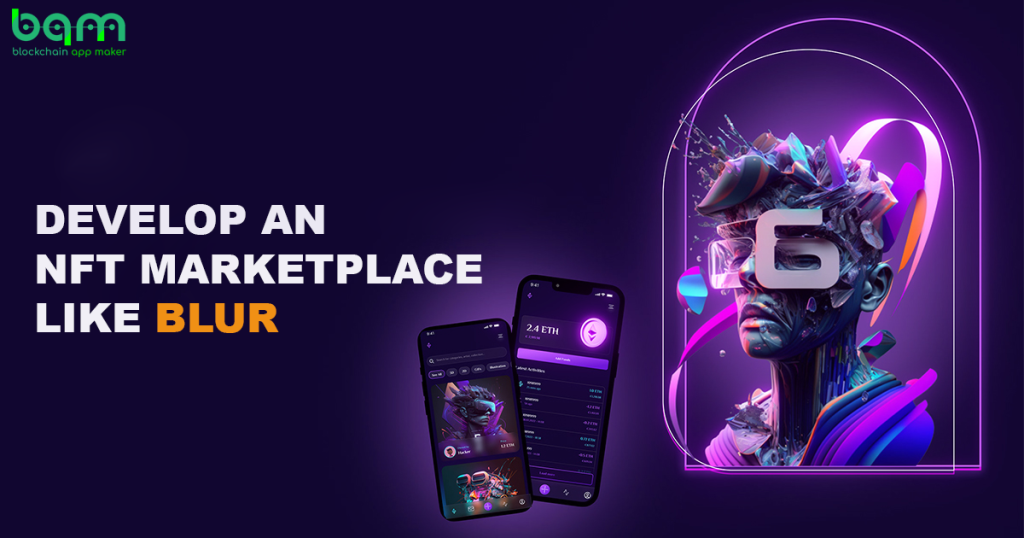 Non-Fungible Tokens (NFTs) are here to stay, as they have become increasingly common. They are becoming an integral part of the digital world and its future. To the benefit of the market, NFT Marketplace and NFT Aggregator Marketplace has become the most desirable platform due to their capacity to accommodate individuals with various interests in the same space. NFT Marketplaces like Opensea, Rarible, Superrare, and Looksrare are common, but the highlight of 2022 was the launch of the Ethereum-based NFT Marketplace and Aggregator Platform – Blur.
An Introduction To Blur
Since its launch on October 19, 2022, Blur has become a formidable force in the NFT marketplace. In less than six months, the platform has surpassed OpenSea in terms of daily and weekly trade volume, making headlines for doing so. Boasting being the "fastest NFT Marketplace," Blur offers a variety of features like faster NFT snipe and sweep, real-time price feeds and price-based sorting, portfolio management, batch shelf, and zero trading fees on NFT sales. Additionally, the platform aggregates non-fungible tokens from NFT marketplaces like Opensea, and Looksrare, catering to the requirements of pro-NFT traders.
Features of Blur NFT Marketplace
Blur stands out as one of the best marketplaces for amateur and experienced NFT traders due to its features as both a marketplace and an NFT aggregator platform. With its aggregator, traders can conveniently analyze and purchase multiple NFTs from various marketplaces all at once. Thus, Blur enables users to optimize their NFT trading experience.
Speed: Admittedly, one of the most beneficial aspects of the Blur marketplace is its speed. It is ten times faster than the Gem aggregator acquired by Opensea. As a result, Blur facilitates faster batch minting options for all marketplaces and NFT projects.
Listing Options: The Blur NFT marketplace offers a range of advanced NFT analytics and portfolio options, including floor price, trait floor price, and ladder list. Through the use of integrated analytics, portfolio management is made possible.
Sweeps: Blur NFT Marketplace enables traders to acquire multiple or a large number of NFTs from any project for the floor price, providing a benefit for maximizing profits in a brief timeframe.
Portfolio View: Users of Blur can view the portfolio activity of any wallet trading on the platform. This feature allows them to view all activities or filter by collection. Moreover, traders get free access to all the features available on the platform.
How Do You Create An NFT Marketplace Like Blur?
Now that you know the advantages of an NFT Marketplace like Blur, you can design your own NFT market similar to Blur. Here are some basic steps to follow if you want to develop it from scratch:
Select the suitable blockchain platform for an NFT Marketplace like Blur
Determine your target audience, like Blur targeted Pro Traders exclusively
Design an attractive and easy-to-navigate user interface (UI/UX) for the NFT Marketplace
Choose Tokens
Develop smart contracts
Create the portal for analytics, as Blur is an aggregator platform
Test your marketplace solution and deploy it
How Will Users Benefit From NFT Marketplace Like Blur?
Blur NFT Marketplace ensures that no fees are incurred on the purchase and sale of NFTs and provides users with the ability to execute bulk purchases of NFTs from various platforms with a single click, thus resulting in increased sales figures. Furthermore, Blur has access to historical transactional and NFT commerce data from multiple platforms, providing it with a considerable advantage over other NFT marketplace platforms. In addition, Blur regularly promotes and markets new NFT series and projects through NFT airdrops, with some of these airdrops granting fresh NFTs to the current owners of coins, tokens, and NFTs.
How Can We Help You?
Our focus on the decentralized future has enabled us to add the latest addition to our expertise – NFT aggregator and NFT marketplace like Blur. We are committed to bringing a decentralized and transparent future to the present. Blockchain App Maker provides a solution to ensure profit within the NFT aggregator market, benefiting buyers and sellers alike. By implementing our strategies, we remain vigilant of the trends and developments in the NFT marketplace.