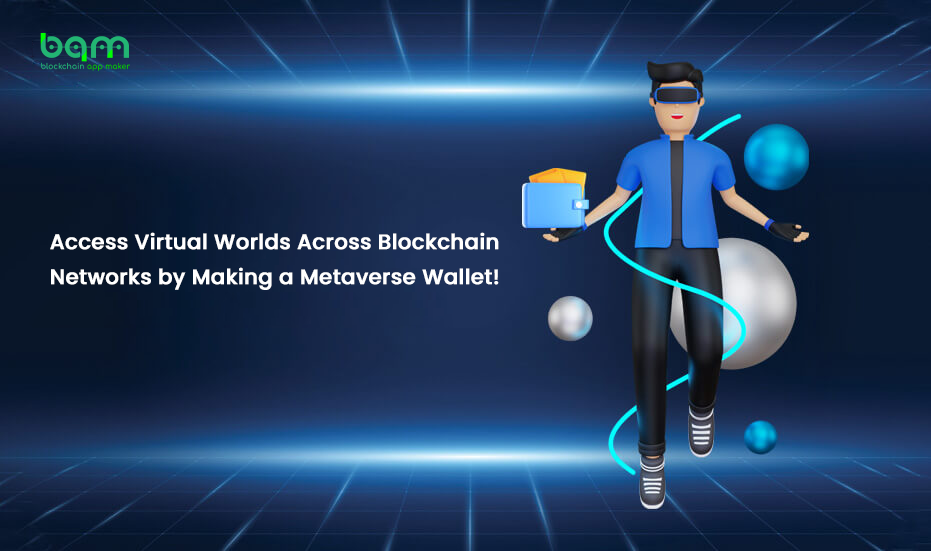 Since its inaugural use, the term "metaverse" has caused a great deal of controversy. The phrase appeared in Neal Stephenson's 1992 book Snow Crash. Metaverses began to emerge as blockchain technology advanced concurrently over time. The first genuine metaverses, even though they were play-to-earn games, weren't introduced until much later. These metaverses were created in large part as a result of the development of blockchain applications. The functionality of the systems was largely determined by non-fungible tokens (NFTs). Today's metaverses have developed to some extent into forums for conversation. This blog discusses the steps involved in building a metaverse wallet.

Details of the Metaverse
Metaverses are online spaces where users can communicate virtually using digital avatars. On these platforms, social events including meetings, concerts, and exhibitions can be held. At the moment, Decentraland, the Sandbox, Axie Infinity, and Illuvium are the most well-known metaverses. The majority of these platforms are built around the play-to-earn model used in gaming. The evolution of metaverses is still ongoing, as we had anticipated, although some aspects have been made clear. Users can use desktop computers, mobile phones, and AR/VR headsets to access metaverse platforms. Statistics show that since the outbreak, purchases of AR/VR headsets have surged. Companies like Microsoft, Google, and Meta have already made investments in metaverse projects.

A Metaverse Wallet: What Is It?
A cryptocurrency wallet with extra features is called a metaverse wallet. Cryptocurrencies can be received, stored, and traded using a standard crypto wallet. But there are many more options available when using a metaverse crypto wallet. Metaverse smart assets can be created, transferred, and have their features customized. The name, value, and issuers of the assets are all customizable by the wallet owner. Owners of wallets can also hold exchange-traded products (ETPs) to generate interest. In the actual world, holding ETPs functions similarly to making bank deposits. Through various cutting-edge capabilities like those mentioned above, these wallets provide the key to the metaverse.

Top Crypto Tokens in the Metaverse
MANAI – Decentraland
The native token of the online game system Decentraland is $MANA. At the time of writing, the market capitalization of $MANA was $1.87 billion USD. Use this token to purchase virtual land, represented by the symbol $LAND.
Axie Infinity, $AXS
The native token of the combat-focused game Axie Infinity is $AXS. At the time of writing, $AXS had a $1.15 billion market value. This token can be used to rule the game and make important choices.
The Sandbox, $SAND
The Sandbox, a metaverse game, has a native token called $SAND. At the time of writing, $SAND has a market value of $1.65 billion USD. Within the Sandbox universe, this coin can be used for staking, utilities, and governance.
Enjin Coin, $ENJ
The native token of the Enjin Ecosystem, which consists of numerous games, is $ENJ. At the time of writing, the market capitalization of $ENJ was US$566.7 million. Every non-fungible token created inside the Enjin Ecosystem is backed by this token.

Metaverse Wallet Types
The private keys are kept on the desktop using desktop wallets. The desktop that houses the wallet should have adequate processor and storage capacity.
Online wallets keep your private keys in the cloud, which is not advised.
Online and desktop wallets are combined in mobile wallets. Through the use of external security mechanisms for protection, they consume less battery life from smartphones. This has been the most widely used choice for businesses wishing to create metaverse wallets.
Exclusive gadgets that hold private keys and seed phrases are hardware wallets.
Information about the wallet is kept in paper wallets as a document. However, it is important to keep these wallets secure.

Important Characteristics of a Metaverse Wallet
Log in – Any wallet in the metaverse should have a safe login page. To ensure security, features like verification and authentication should be used.
Processing transactions: Your metaverse wallet ought to have a quick transaction processing time. This is because there are no intermediates in the system, which is decentralized.
Strong Security – Given that cryptocurrency transactions are irreversible; your metaverse wallet should be very secure. A alteration made to the block cannot ever be undone. Such a nature calls for the requirement to safeguard the metaverse wallet from bad actors.
Mark as Preferred – Users should be able to bookmark their favorite wallet addresses in your metaverse wallet. A user no longer needs to repeatedly enter public keys thanks to this feature.
Transparent – The source code for the metaverse wallet will be available to anyone. This makes it simple for users to inspect and test the wallet software.
Encryption – Private credentials are encrypted, so no one may access the wallet without authorization. Public keys will still be observable but will no longer be able to provide access.
Non-fungible Tokens: An NFT asset from a different blockchain should be able to be stored in a metaverse wallet. ERC-721, ERC-1155, BEP-721, TRC-721, BEP-1155, NFT Cosmos, and dGoods are examples of popular standards.
Alerts—Notifications for your metaverse wallet are essential for keeping your users informed. Updates can be made to transaction status, app updates, deposits and withdrawals, and suspicious activity.

Making a Metaverse Wallet: Steps
You should first sketch out your plan for making your metaverse wallet. Choose the technology, design, functionality, target market, and integration of the blockchain, among other things.
Study of the Metaverse wallet market. For your project, you should identify the market, competitors, and audience. This will assist you in comprehending the necessities of the market and their current flow.
Complete the basic design and primary functionality of your metaverse wallet at this point. The development of prototypes will depend on comments and acceptance.
Afterward, competent developers will do back-end duties like integrating numerous applications.
The wallet platform can then be examined by testers for any flaws. If mistakes are made, they will fix them until no more mistakes are made. At this point, a variety of test cases will be used.
Finally, make the metaverse wallet accessible to everyone. Ensure that you update your application frequently to stay on the top.

What Can the Blockchain App Maker Do to Help You?
The process of making metaverse wallets is where Blockchain App Maker thrives. We have learned important lessons from our nearly nine years of industry expertise. You can design a metaverse wallet with the aid of our experienced teams from many development disciplines. The luxury of having all your needs met is also an option. Our services for creating metaverse wallets are also swift and reasonably priced. If you wish to construct a metaverse wallet, get in touch with one of our experts right now.