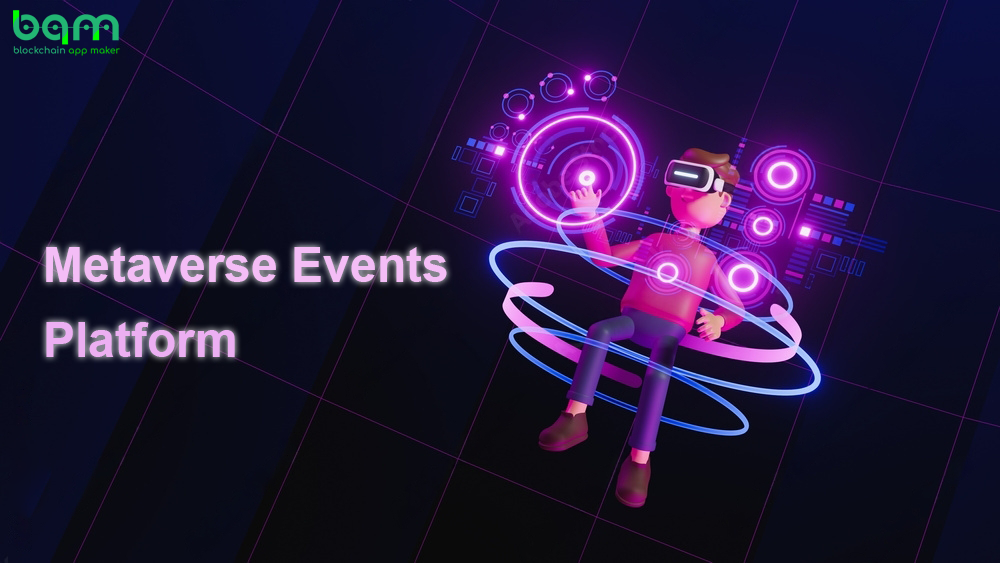 The Metaverse is a virtual space that brings together users from everywhere. As such, numerous events take place in the Metaverse. The Metaverse Events Platform is a digital platform that allows users to create and participate in events within the Metaverse. The emergence of the Metaverse development has ushered in a new era, allowing individuals to live and interact within a digital world, replicating activities and experiences from the real world.
In 2021, luxury brands such as Gucci, Balenciaga, Burberry, Ralph Lauren, and Louis Vuitton explored the Metaverse by entering the gaming world. They introduced virtual goods and NFTs. Gucci, for instance, showcased its Gucci Garden experience on Roblox, making it possible for users to purchase avatars and clothing items. Balenciaga, on the other hand, launched skins and outfits on Epic Games' Fortnite.
Harness The Possibilities of Different Metaverse Events
With the expansion of the Metaverse Development scenario, events focussing on it have become increasingly prevalent. While different events constantly emerge, the below-mentioned events are usually the most prominent metaverse event options.
Museums and Art galleries: The Metaverse offers a unique opportunity to appreciate art and cultural artefacts internationally. Users can view these exhibits and gain access to them regardless of their geographical location through virtual museums and art galleries. The Metaverse Development would enable greater accessibility to these works of art and cultural artefacts, thus providing the audience to admire and appreciate them.
Tourism: The concept of a Metaverse allows for the potential of creating virtual replicas of popular tourist destinations. Users can explore these locations in a fully immersive environment. They can experience the culture and beauty of these places without ever having to leave the comfort of their homes. It could be a revolutionary way for people to travel the world with minimal effort and expense.
Sports events: Sports fans now have the opportunity to attend virtual versions of their favourite sports events in the Metaverse. It is a revolutionary way to enjoy sporting events and share in the collective excitement of the game. This new experience allows them to watch live games and interact with other fans in real time, creating a unique and engaging atmosphere. 
Virtual education: The Metaverse could be an unparalleled platform for virtual learning! Online classes and lectures could take place in a fully immersive environment. This way, students could engage with course materials more interactively and excitingly. They could be more engaged and make the most of their virtual learning experience.
Social Gatherings: The Metaverse is an exciting new platform that could revolutionize socialising. It could allow us to host virtual parties and other social events, connecting with friends in a much more immersive and interactive way. With the help of Metaverse Development, we could interact and socialize without being limited by physical space – how amazing is that?!
Trade Shows: At the immersive Metaverse trade expo, there is the opportunity to connect exhibitors with customers from all over the globe. Utilizing any device, those involved can effectively engage with the audience, capture their attention, create leads, and develop a sales funnel. Trade shows are not limited to investments in financial institutions; they encompass a wide range of products and services, from automobiles and food to technology and real estate.
Job Fairs: Holding job fairs in the Metaverse is the most effective means of sourcing and recruiting skilled personnel for vacant roles. Employers can draw from a larger applicant pool, interview the most promising candidates, and engage with them. Additionally, the interactive features of Metaverse development present the opportunity for companies to provide training and development opportunities.
Live Concerts and Entertainment: Entertainment events such as live concerts should ideally be immersive to allow users to feel connected to the experience. By leveraging advanced technologies such as Augmented Reality (AR) and Virtual Reality (VR), Metaverse can provide unprecedented entertainment with customizable avatars. It will enable event organizers to reach a global audience, allowing participants to explore the virtual environment and enjoy the performances of their favourite artists.
Features of Event Platform Leveraging Metaverse Development
The 3D virtual environment is required to construct the venue, incorporate characters, add features, and provide facilities for visitors. Furthermore, stands for sponsors and exhibitors must be assigned along with banners, videos for promotion, and other necessary considerations. Ultimately, it is up to the organizer to determine the specifics of the virtual environment.
Let's discuss some features of the Metaverse Platform in more detail.
Event Creation: Users can create their events within the Metaverse, such as concerts, conferences, workshops, and more. The platform provides tools to create custom avatars and design virtual venues and event schedules.
Event Discovery: Users can browse and discover events hosted on the platform either through search or by browsing categories such as gaming, music, education, and more.
Ticketing and Payments: The platform provides a ticketing system that allows event organizers to sell tickets to their events. Users can purchase tickets using virtual currencies like cryptocurrency or traditional payment methods like credit cards.
Interactivity: The platform allows for interactive experiences within events, such as live chat, real-time feedback, and interactive games or challenges.
Integration with Metaverse: The platform is integrated with Metaverse platforms such as Decentraland, Somnium Space, and Cryptovoxels, allowing for seamless integration and compatibility.
Analytics and Insights: The platform provides analytics and insights into event performance, such as attendance, engagement, and revenue.
Customization: The platform allows for event branding, avatars, virtual venues, and more, allowing for unique and personalized experiences.
Final Thoughts
Hosting a Metaverse event is an effective way to expand your reach, whether you are an experienced event planner looking to reach a broader base or a new marketer aiming to attract new customers. The level of engagement will depend on the platform you use, which could range from discussions, articles, audio recordings, and live video streaming, all unified by a unified theme to provide an extraordinary experience to all attendees. At Blockchain App Maker, we possess the resources and expertise necessary to assist you in reaching your goals. We are committed to supporting you throughout every stage of your journey, be it the implementation of a single event or a comprehensive Metaverse Event Platform.