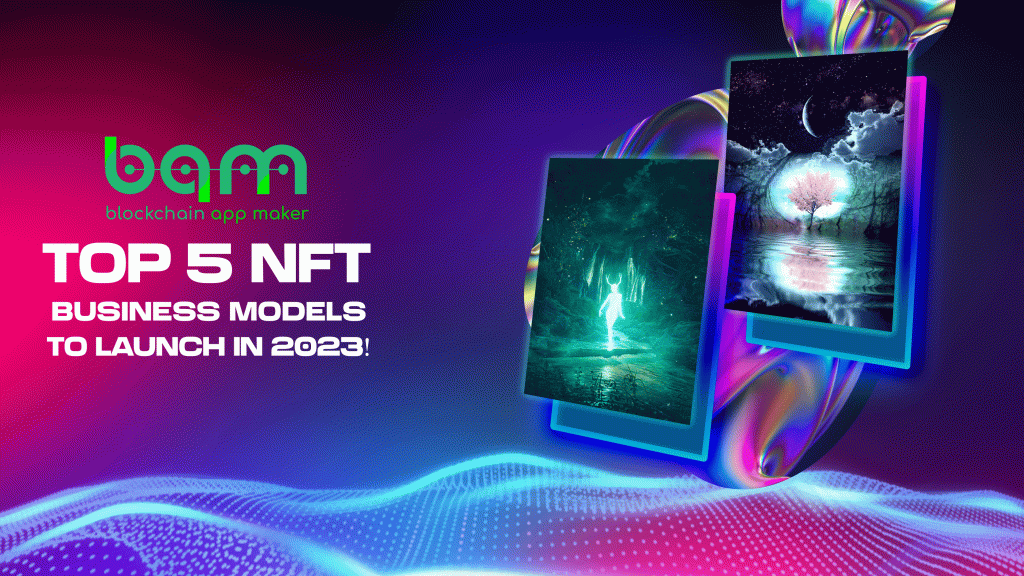 The emergence of non-fungible tokens has demonstrated how the world might change in order to better serve consumers while still being advantageous to enterprises. Blockchains were not anticipated to bring about significant changes on the magnitude that we have witnessed today (although it is a fraction of what the future holds). However, the perspective has altered somewhat as a result of the marriage of cryptocurrencies and NFTs, and metaverse worlds are poised to make even more changes. As the year comes to a close, aspiring business owners are getting set to follow their ambitions in the coming year. Here are a few NFT company models that may be successful in 2023 for an entrepreneur.
Business Models for NFT: A History
Before discussing the top NFT business models in depth, it is important to understand the background of this market, which is presently highly competitive. In 2013, the first non-fungible token was developed, and the first NFT businesses began to appear around 2017. Since then, there has been a significant increase in NFT business endeavors and NFT revenues, with 2021 serving as the milestone year as the worldwide NFT market surpassed the $1 billion threshold. Despite a protracted crypto winter that threatened to destroy the Web3 business climate, there has been no turning back since then.
1. NFT Marketplace
An NFT marketplace, which is probably the most well-known NFT business model, allows users to generate and exchange digital and physical goods backed by NFT entries. These sites are able to sell NFTs in practically any sector with ease, including pixelated punks, music records, in-game accessories, sports memorabilia, virtual real estate, and even rare physical artifacts. Due to the fact that newbies typically approach a marketplace to obtain their first NFTs, the platform may be great for companies looking to build a name for themselves in the Web3 ecosystem. Profit greatly by utilizing the excellent NFT business model provided by Blockchain App Maker.
2. P2E NFT Game
For good reasons, P2E NFT games are regarded as the best NFT business concepts. A P2E NFT game is a good business to start for any entrepreneur thanks to its novel system of player incentives and captivating story line-based games. It is simple to create games of all kinds, and the NFT business model may be fully leveraged by using crypto native tokens and in-game NFT props. It has a variety of revenue streams, including Play-to-Earn (P2E), Move-to-Earn (M2E), and NFT rentals that can be smoothly included into any genre-based game. To reap the benefits, begin your Web3 trip with a hot NFT game.
3. NFT in Real Estate
NFTs have the potential to improve the reputation of real estate, which has a terrible reputation in the physical world due to the prevalence of intermediaries and the delayed adoption of new technologies. NFT real estate for the physical and virtual worlds has developed into a top venture option to run in 2023 as an NFT company model. By inserting the relevant data in smart contracts that will execute during NFT transactions to enable intermediary-less exchanges, NFTs are formed in this case for land parcels. Because of the development of metaverse technology, NFT in virtual real estate may also present a strong financial opportunity.
4. NFT Launchpad
A platform known as an NFT launchpad enables innovators and small business owners to raise money for their upcoming projects using first NFT offerings (INOs). With the exception of NFT offerings, these platforms operate very similarly to Initial DEX Offering (IDO) launchpads. Given the number of up-and-coming, little-known firms and creators striving to succeed, such a platform can be profitable for businesses. Such people can gain from this NFT business model by being introduced to an eager investor community that looks for initiatives that are vetted and founded on good intentions.
5. NFT for Sports
There are several options when it comes to NFT for sports. The NFT business model has a variety of applications, such as P2E fantasy games and collector marketplaces. Numerous sports artifacts, including virtual badges, equipment, video highlights, and trading cards, are already common on the domain. The value of NFT tokens among fans is increased by such platforms that are associated with sports leagues and teams because they typically provide premium access to events to NFT holders. To become well-known among Web3 circles, a sports NFT company enterprise needs to put in a lot of work on all fronts.


How are NFT Business Models and Blockchain App Maker Related?
The aforementioned query is irrelevant because you were a pioneer in starting businesses based on several NFT business models. Our teams now have the skills to investigate and develop unique platforms for our clients thanks to Blockchain App Maker's competence in the Web3 sector. This blog may have provided you a sneak peek into a potential company idea if you intend to launch your NFT venture next year. If you have any additional queries, our specialists can help you along the route to launching your firm using any of the aforementioned NFT business models. For a meeting with one of us soon, kindly contact us.