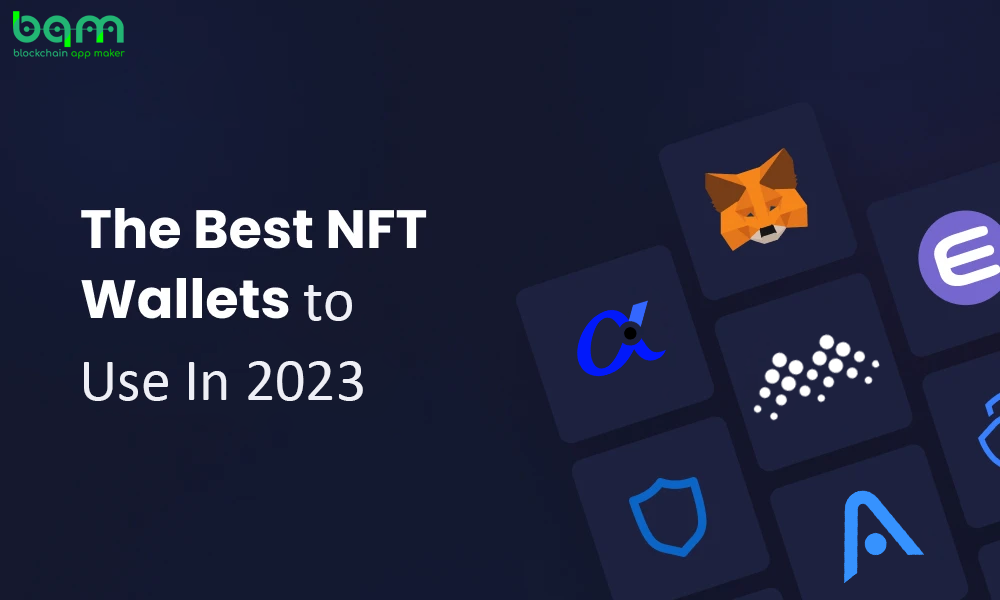 As the popularity of non-fungible tokens (NFTs) continues to soar, the need for secure and user-friendly NFT wallets has become paramount. NFTs represent unique digital assets such as art, collectables, and virtual real estate, and they require a specialized wallet to ensure their safe storage and seamless management. In this article, we will explore the top NFT Wallets of 2023.
What are NFT Wallets?
NFT wallets are digital wallets designed to store, manage, and interact with non-fungible tokens. Unlike traditional cryptocurrency wallets, NFT wallets can handle the unique properties and functionalities of NFTs. These wallets allow users to store NFTs securely, view collections, participate in NFT marketplaces, and engage in token transfers or trades. When choosing an NFT wallet, it is important to consider the following factors:
Security: The wallet should use strong security features, such as two-factor authentication and cold storage.
Compatibility: The wallet should be compatible with the blockchains on which you plan to store your NFTs.
Ease of use: The wallet should be easy to use, both for beginners and experienced users.
Features: The wallet should offer a variety of features, such as the ability to store, manage, and trade NFTs.
Top NFT Wallets
Metamask: MetaMask, founded by ConsenSys in 2016, initially started as a desktop wallet. The mobile app was launched in 2020. This wallet offers support for over 600,000 cryptocurrencies and allows users to add custom tokens and store Non-Fungible Tokens (NFTs). Moreover, this wallet is even able to connect to other blockchains. In addition, Metamask provides users with a convenient user experience, including a built-in swap feature to facilitate the purchase of NFTs. The web extension and mobile application feature the wallet, allowing a smooth and secure transaction. MetaMask offers users to limit the gas fees incurred, although there is a potential for transaction failure. Experienced users benefit from the multi-chain functionalities that MetaMask provides, whereas beginners may need guidance on how to use the wallet. Nonetheless, there are some drawbacks to utilizing MetaMask, such as the necessity of manual inclusion of desired cryptocurrencies as well as the lack of support for Bitcoin.
Atomic Wallet:  Founded in 2017, Atomic Wallet is a multi-platform wallet with over 5 million times. It is led by Konstantin Gladych, the co-founder and CEO of Changelly. This open-source NFT wallet supports more than 300 cryptocurrencies, including most ERC-20 tokens, and works with Windows, MacOS, Android, and iOS. Notable services include credit card cryptocurrency purchases, peer-to-peer transactions, and ShapeShift transactions, although it does not currently support hardware wallets which may be a disadvantage for users who value extra security.
Trust Wallet: Trust Wallet is a highly popular decentralized mobile wallet with over 60 million users for storing cryptocurrencies and NFTs. Additionally, it provides a Google Chrome add-on. This wallet offers extensive multi-chain support, including Ethereum, Solana, and all EVM chains such as Polygon, Binance Smart Chain, and Avalanche. It natively supports more than 9 million tokens across these chains by allowing users to access NFTs on different networks and join the rapidly evolving NFT ecosystem. Trust Wallet provides a straightforward and secure solution for the management and storage of these digital collectables, allowing users to easily access and manage their digital assets. With its user-friendly interface and robust security features, it is a favoured choice among crypto enthusiasts.
Alpha Wallet: AlphaWallet is an open-source, mobile-exclusive cryptocurrency wallet designed for Non-Fungible Tokens (NFTs) on the Ethereum network. It provides a user-friendly interface with a dedicated section for NFTs and gaming tokens, allowing users to add meta tags to tokens for quicker searching and sorting. AlphaWallet has partnered with many NFT and blockchain game marketplaces, including OpenSea, CryptoKitties, Dragonereum, and Chainz Arena. Though limited to mobile devices, AlphaWallet's website provides a wide array of open-source tools for developers, artists, and businesses looking to utilize tokenization on a blockchain.
Math Wallet: Math Wallet is a highly regarded wallet that supports multiple blockchains. Its capabilities include the ability to trade, manage, acquire, sell, and cash out NFTs, offering users an efficient and complete platform. It is a secure and user-friendly wallet intended to enable users to store their cryptocurrencies and NFTs securely. The project is backed by some of the biggest investors in the blockchain space and has attained a high level of trust and credibility. Additionally, its SmartWallet Appchain is based on Substrate and supports the most popular blockchains. Ultimately, Math Wallet is reliable for storing digital assets and NFTs.
Enjin Wallet: Enjin Wallet is a decentralized wallet based on the Ethereum blockchain, designed to store and support Non-Fungible Tokens (NFTs). It has gained significant traction among the gaming community and NFT collectors. It allows users to create NFTs, store them in their wallets, and access a built-in NFT marketplace. This wallet also enables users to view and manage their entire NFT collection easily. Furthermore, it is compatible with various blockchains, including Ethereum and Binance Smart Chain.
Wrapping Up
NFT wallets play a crucial role in securely storing and managing non-fungible tokens. With their advanced security features, seamless integration with NFT marketplaces, and user-friendly interfaces, NFT wallets provide a convenient and reliable solution for NFT enthusiasts and collectors. Whether you are an art lover, a digital asset collector, or an investor in the NFT space, Blockchain App Maker can help you to utilize and develop an NFT wallet to safeguard your unique digital assets and fully engage in the vibrant world of NFTs.